The Design Process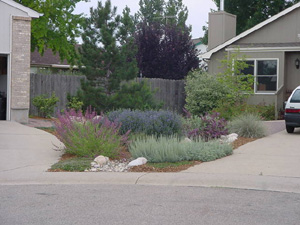 Whether designing a new yard or renovating an existing one Loretta works with clients to create unique and functional outdoor spaces with appropriate maintenance and watering requirements. The design process begins with a consultation meeting at which client needs and wants and how the site can fill those in a beautiful and functional way are discussed. Loretta then estimates the number of hours it will take to create the base map and landscape design. Next a color preliminary plan of the designed area showing ideas discussed is developed and presented. After a preliminary plan review the final scaled landscape plan is developed. The final plan includes plant additions and removals, layout of patios, decks, retaining walls, landscape features, turf and planting bed areas in plan view. A complete material list is included with the plan. With a plan in hand a landscape contractor (Loretta works with and refers 4 companies that are quite good) can put together a bid for installation or the client can install parts or all themselves.
Water-wise Landscapes
Colorado is a dry state with an average annual precipitation of 17 inches with a Fort Collinís average of 15 inches per year. Many variables affect our precipitation from year to year and we are faced with the fact that all water sources flow out of Colorado and we receive new water supplies from only one source, precipitation. Therefore, any day without rain, snow or God forbid hail may be the beginning of our next drought. Xeriscape (water zoned) landscapes are the most economical and sustainable in our climate. Plans based on xeriscape principles and containing regionally native or adapted plants are Loretta's specialty. Loretta choses plants carefully to also encourage native pollinators as they are an important part of the food chain and our local ecosystem.